Filebase named a "Hot Startup to Watch" in the 2021 Big50 Startup Report
Filebase has been named a "Hot Startup to Watch" in Startup50's 2021 Big50 Startup Report!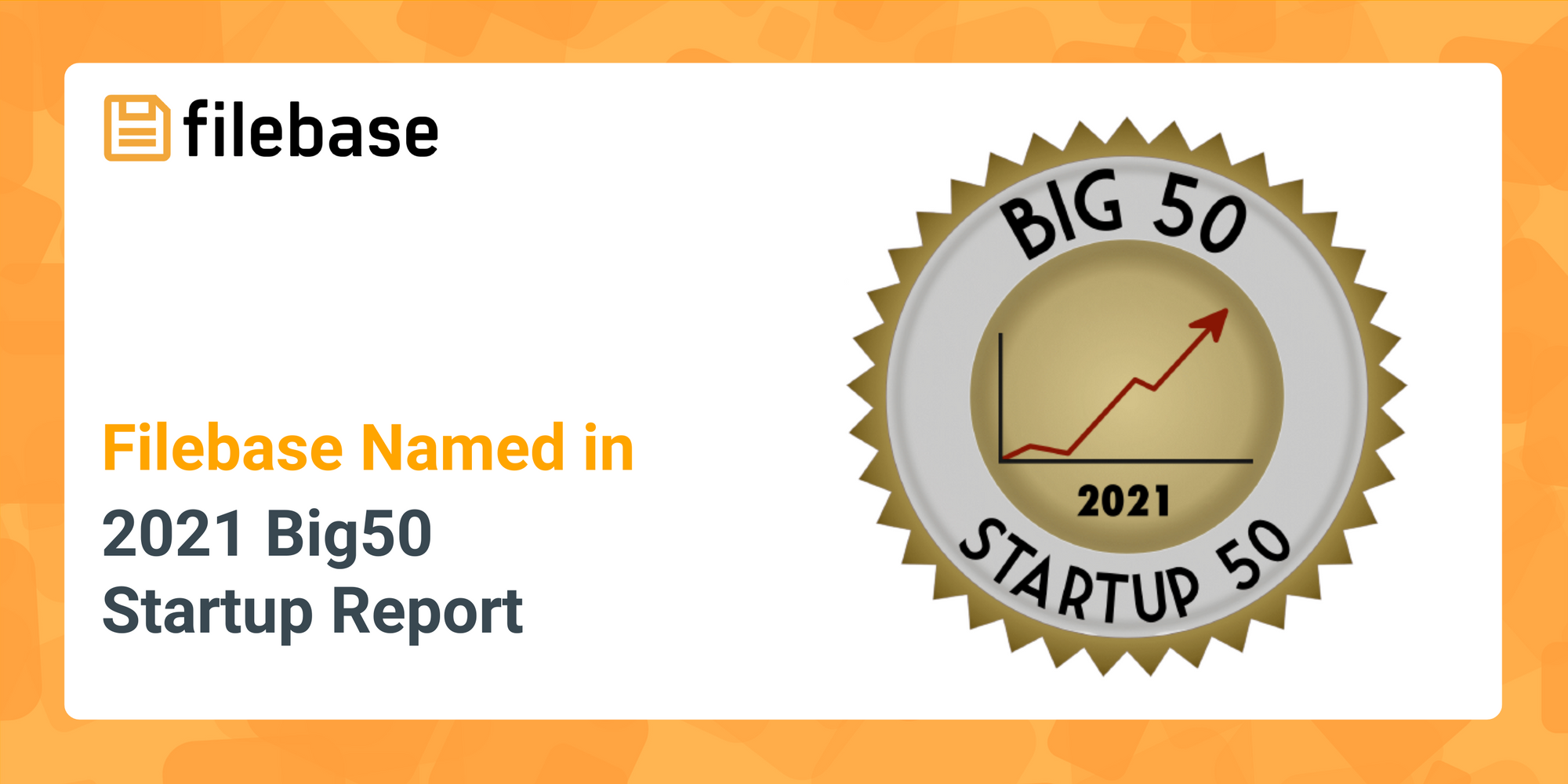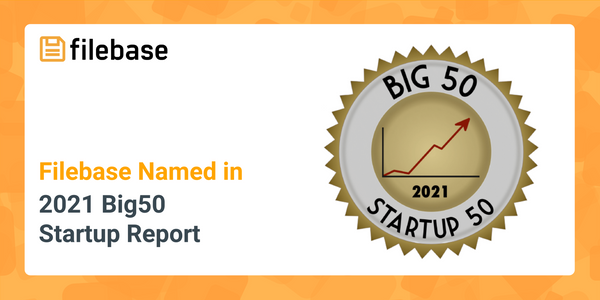 Filebase has been named a "Hot Startup to Watch" in Startup50's 2021 Big50 Startup Report. The 2021 Big50 Startup Report spotlights 50 high-upside startups that have gained a foothold in fast-growth tech sectors.
Jeff Vance founded Startup50 in 2013 as a site that would focus exclusively on hot technology startups. Rather than simply covering the startups and subjectively declaring certain startups "hot" or "disruptive" or "unicorns,". Each year, Startup50 features startups that are poised to upend the status quo in a range of industries and have distinguished themselves by having the right fundamentals (team, funding, market opportunity) to challenge the status quo.
Since the last Big50 published in 2019, several Big50 alumni have gone on to accomplish big things, from raising new VC rounds to executing successful exits via IPOs or acquisitions.
"The startups in this lineup are in a good position to follow in the footsteps of recent Big50 alumni, several of which have already gone on to raise massive rounds of funding, followed by successful exits, whether through IPOs or high-dollar acquisitions," said Jeff Vance, founder and Editor-in-Chief of Startup50. "Of course, not every startup in the Big50 will be a big success, but I won't be at all surprised if several of the startups in this report are household names in the not-too-distant future," he added.
Filebase is the world's first object storage platform powered by multiple decentralized storage networks. Filebase helps customers save over 90% on their storage costs compared to traditional cloud providers. Additionally, Filebase's proprietary edge caching technology helps customers achieve industry-leading performance when fetching data from decentralized networks.
"We're thrilled to be included in such a short-list of esteemed startups, unicorns, and technology partners," said Zac Cohen, COO and co-founder of Filebase. "Jeff puts so much thought, energy and dedication into only showcasing the best emerging and rising stars. Our entire team is thrilled at the inclusion of Filebase in this year's report."
In all, more than 180 startups were considered. Learn more at https://startup50.com.